Posted by Apollo Hospitals |

04 Apr, 2023
In a special effort to celebrate the heroism of transplant recipients and showcase sustained support to patients beyond the treatment cycle, Apollo Hospitals is sponsoring the journey of former patient and star sportsperson, Mr. Sumeer Kumar, to the World Transplant Games in Australia this month. The World Transplant Games is the world's largest awareness event and sporting platform for transplant communities.
Dr Venkatesh Rajkumar – Senior Consultant, Nephrologist, Apollo Hospitals, said, "Apollo Hospitals is pleased to sponsor Sumeer Kumar's journey to the World Transplant Games in Australia. We feel it is vital for us to go beyond the treatment cycle and connect with patients in a way where we can meaningfully impact their lives. Sumeer is also the sole representative at the Games from Tamil Nadu. This sponsorship effort is an opportunity for us to showcase heroes from our country on international platforms."
The Games will see participation by 2500 sportspersons from over 50 countries. The Gift of Life Baton, a new symbol of organ donation, will be presented to the World Transplant Games in Perth this year.
Read more about Apollo Hospitals sponsoring transplant survivor to World Transplant Games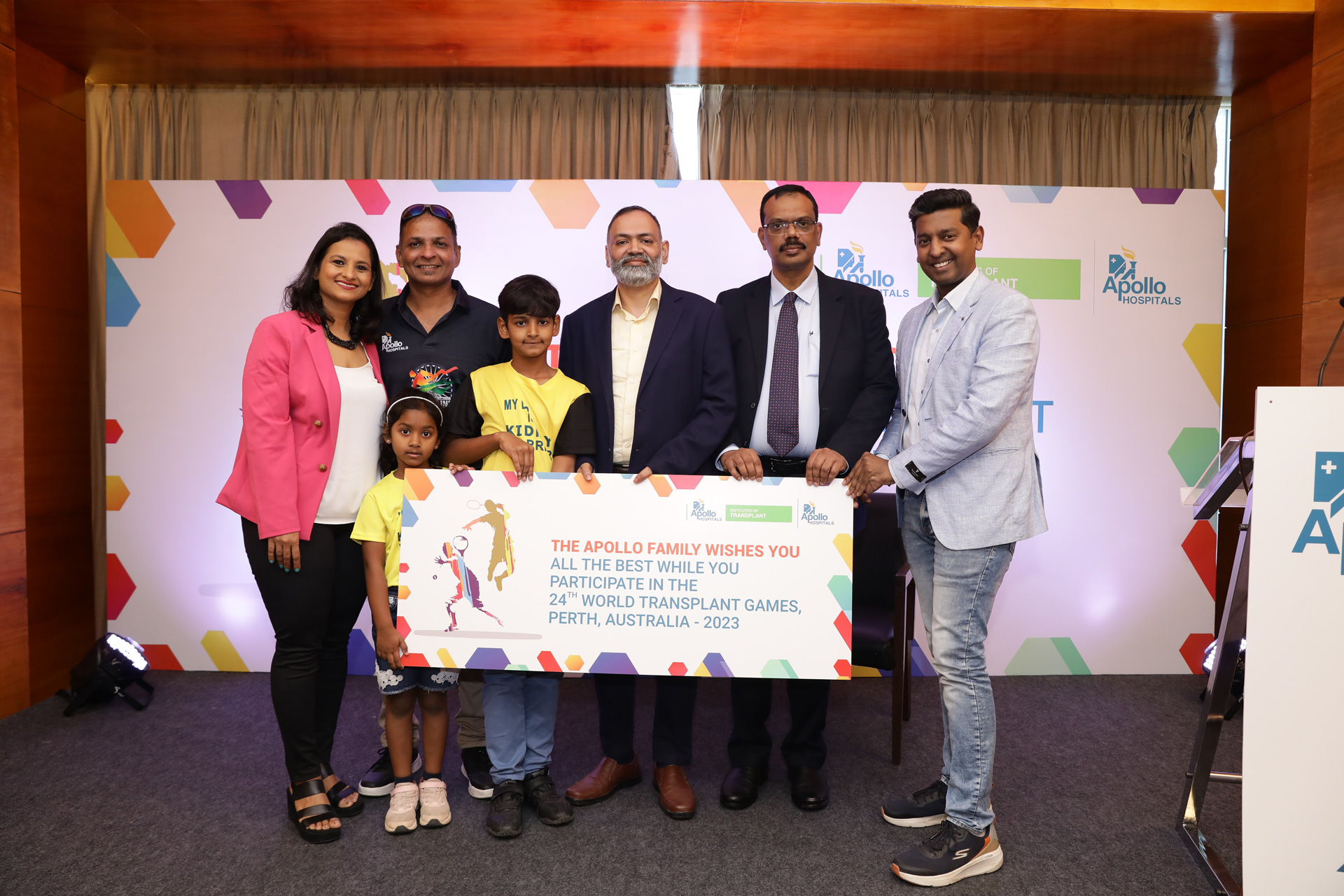 Posted by:Apollo Hospitals
04 Apr, 2023
Get the best of health related stories delivered to your inbox.

AHTemplate:/data_disk/apollohospitals/wp-content/themes/apollohospitals/single-apollo-news.php
Array
(
[page] => 0
[apollo-news] => apollo-hospitals-goes-beyond-treatment-by-sponsoring-two-time-transplant-survivors-sporting-event-in-australia
[post_type] => apollo-news
[name] => apollo-hospitals-goes-beyond-treatment-by-sponsoring-two-time-transplant-survivors-sporting-event-in-australia
[error] =>
[m] =>
[p] => 0
[post_parent] =>
[subpost] =>
[subpost_id] =>
[attachment] =>
[attachment_id] => 0
[pagename] =>
[page_id] => 0
[second] =>
[minute] =>
[hour] =>
[day] => 0
[monthnum] => 0
[year] => 0
[w] => 0
[category_name] =>
[tag] =>
[cat] =>
[tag_id] =>
=>
[author_name] =>
[feed] =>
[tb] =>
[paged] => 0
[meta_key] =>
[meta_value] =>
[preview] =>
[s] =>
[sentence] =>
Apollo Hospitals goes beyond treatment by sponsoring two-time transplant survivor's sporting event in Australia. =>
[fields] =>
[menu_order] =>
=>
[category__in] => Array
(
)
[category__not_in] => Array
(
)
[category__and] => Array
(
)
[post__in] => Array
(
)
[post__not_in] => Array
(
)
[post_name__in] => Array
(
)
[tag__in] => Array
(
)
[tag__not_in] => Array
(
)
[tag__and] => Array
(
)
[tag_slug__in] => Array
(
)
[tag_slug__and] => Array
(
)
[post_parent__in] => Array
(
)
[post_parent__not_in] => Array
(
)
[author__in] => Array
(
)
[author__not_in] => Array
(
)
[ignore_sticky_posts] =>
[suppress_filters] =>
[cache_results] => 1
[update_post_term_cache] => 1
[lazy_load_term_meta] => 1
[update_post_meta_cache] => 1
[posts_per_page] => 12
[nopaging] =>
[comments_per_page] => 50
[no_found_rows] =>
[order] => DESC
)