New Delhi, November 16, 2023: In a significant stride towards inclusivity, Delhi International Airport Limited (DIAL) – a GMR Airports Infrastructure Limited-led consortium, today introduced a range of special services aimed at enhancing the travel experience for individuals with hidden disabilities in India's busiest Delhi Airport.

Aligned with the globally recognized Hidden Disabilities Sunflower initiative, DIAL has transformed Delhi Airport into a Sunflower Airport, and sensitized all passenger facing partners through this program with a globally developed framework.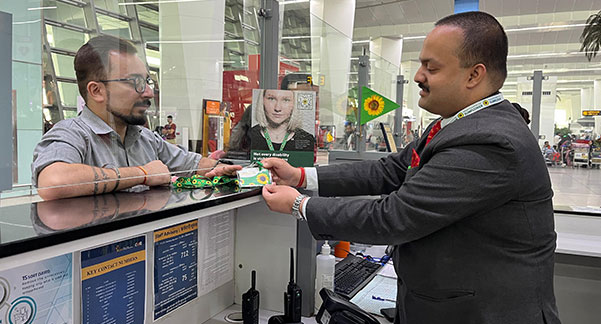 Under this initiative, DIAL has introduced a variety of merchandise options including Sunflower Lanyards, pin badges, and wristbands. These discreet, yet identifiable items allow passengers to signal their need for assistance from airport staff. The Sunflower merchandise is available for collection at the Helpdesks and Information counters located within the terminals.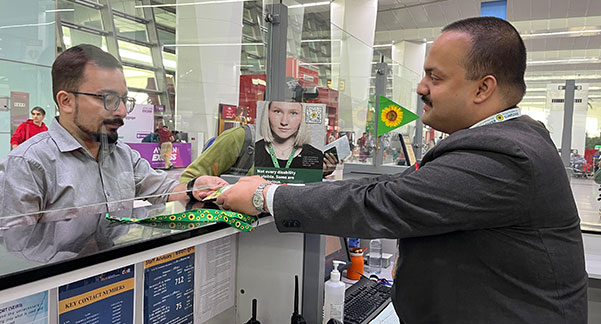 By donning the Sunflower lanyard/pin/wristband, individuals with hidden disabilities can easily and discreetly identify themselves and make their needs known to the airport staff, who will empathetically approach them and provide the necessary help.

Delhi Airport has conducted comprehensive training for all its passenger-facing staff members on the nuances of the hidden disabilities and how to approach an individual wearing the Sunflower emblem. This will ensure that the passengers are dealt with care throughout their journey.

"The introduction of the Hidden Disabilities Sunflower initiative perfectly aligns with GMR's unwavering commitment to providing a seamless and comfortable travel experience for all passengers. We acknowledge that travel can be challenging for individuals with hidden disabilities, and our goal is to create an environment that is sensitive, supportive, and accommodating," said Mr Videh Kumar Jaipuriar, CEO-DIAL, a subsidiary of GMR Airports Infrastructure Limited.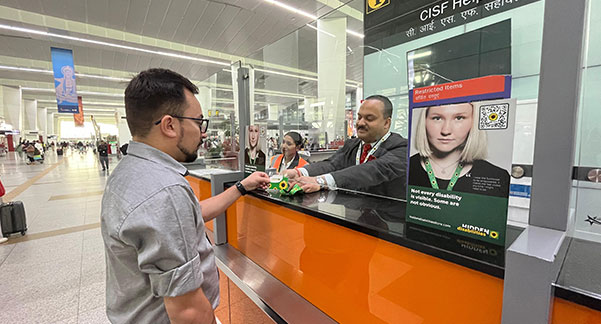 The implementation of the Sunflower Programme underscores Delhi Airport's dedication to embracing diversity and nurturing an all-inclusive atmosphere. By extending these specialized services, the airport aspires to empower passengers with hidden disabilities to travel with confidence, knowing that they have the necessary support at every step of their journey.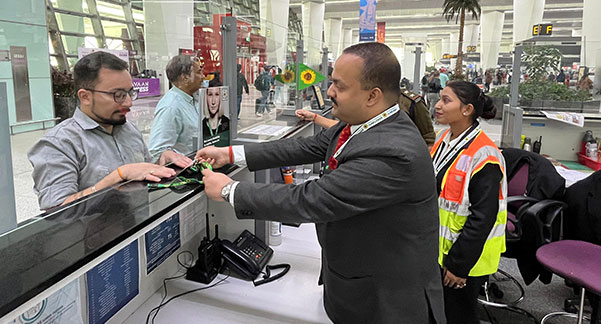 About GMR Group

GMR Group is a leading global infrastructure conglomerate with unparalleled expertise in designing, building, and operating airports. It also has a significant presence in sectors like Energy, Transportation, and Urban Infrastructure.

GMR Airports is the largest private airport operator in Asia and 2nd largest in the world with a passenger handling capacity of over 189 million annually. GMR Airports Limited, a subsidiary of GMR Airports Infrastructure Limited [formerly known as GMR Infrastructure Limited] (GIL) has Groupe ADP as its strategic partner, which is holding a 49 percent stake. GMR Airports operates the iconic Delhi Airport, which is the largest and fastest-growing airport in India. It also runs Hyderabad Airport, a pioneering greenfield airport known for several technological innovations. The company also operates New Goa Airport which is India's first destination Airport. The airport offers everything a tourist looks for i.e. liveliness in the serene lap of nature, making it a perfect destination for leisure and holistic tourism.

Expanding its overseas footprint, the company is developing and operating Kualanamu International Airport in Medan, Indonesia, in collaboration with Angkasa Pura II (AP II). GMR Airports is also providing technical services to the architecturally renowned and the second busiest airport in the Philippines, Mactan Cebu International Airport in Cebu.

The Group is currently developing two major greenfield airport projects in India and Greece. Bhogapuram airport in India is poised to transform the economy and landscape of the surrounding areas when ready. Crete airport in Greece will similarly play a significant role in the local economy of the region.

GMR Aero Technic (GAT) is India's largest integrated world-class third-party MRO; a part of GMR Hyderabad International Airport Limited (GHIAL). GAT provides complete technical support to aircraft operators, with utmost quality and reliability to ensure that its customers meet their operational requirements. GAT has been constantly upgrading its capabilities and expanding its service offerings to meet the growing maintenance needs of airline operators within and outside India, with a vision to be a lead MRO in the Asia Pacific region. 

  As a pioneer in implementing the path-breaking Aerotropolis concept in India, GMR Airports is developing unique airport cities on commercial lands available around its airports in Delhi, Hyderabad, and Goa. GMR Delhi Aerocity is a landmark business, leisure, and experiential district. Similarly, GMR Hyderabad Aerocity is coming up as a new-age smart business hub.

GMR's energy businesses have an installed capacity of over 3,000 MW capacity. With a significant focus on green energy, the company is working towards creating a more sustainable environment by harnessing the power of wind, water, and sun for energy generation. It has a balanced mix in its energy generation portfolio. Around 1,000 MW of clean energy projects of GMR are under various stages of development in India and Nepal.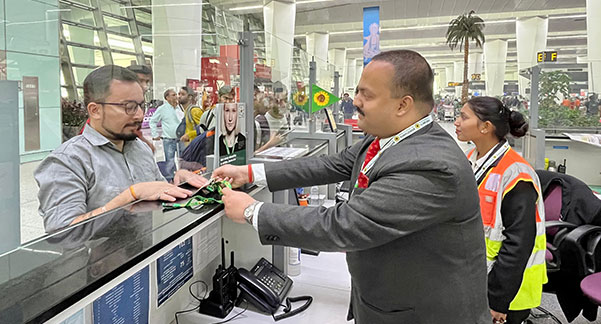 The Transportation and Urban Infrastructure division focuses on surface transport projects including Roads, Railways, and Airstrips/ Runways in both DBFOT (under GMR Highways) and EPC (under GIL – EPC) segments. The Group has four operating highway assets spanning over 1,824 lane kilometers. 

Group's EPC business is working on the design and construction of the prestigious Eastern Dedicated Freight Corridor project of DFCCI (Dedicated Freight Corridor Corporation of India). GMR Group is also developing multi-focus Special Investment Regions in India.

GMR Group's underlying philosophy is to work closely with and support the local communities wherever it is present. Towards this, GMR Varalakshmi Foundation (GMRVF), the CSR arm of the Group, focuses on improving the quality of life of people by enhancing skills, providing education, and developing healthcare infrastructure and services.

For Further details, please contact:

Subhendu Ray

Head-Media Relations

Email: subhendu.ray@gmrgroup.in

Mobile: +91-9971544011
Saurabh Singh

Corporate Communications

Email: saurabh.singh@gmrgroup.in

Mobile: +91-7291977577