Gold in "ICAI Sustainability Reporting Awards 2021-22" for the second time.
Grasim Industries Limited ("Grasim") was bestowed with 'Gold shield' at a sparkling awards ceremony of "The Institute of Chartered Accountants of India (ICAI)" under the aegis of the Research Committee and Sustainability Reporting Standards Board (SRSB) of ICAI.  Grasim won the prestigious Gold in ICAI Sustainability Reporting Awards 2021-22.
The objective of "ICAI Sustainability Reporting Awards 2020-21" is to recognise, reward and encourage excellence of businesses in Integrated Reporting and acknowledge initiatives of businesses with a transformative contribution to the 2030 agenda for sustainable Development.
The selection was made through a robust 3-tier process:


Review by Technical Reviewers on defined parameters

Review of short-listed Sustainability Reports by Shield Panel

Selection by External Jury consisting of representatives from across the globe from regulatory bodies, industrialists, philanthropists, professionals, academicians, etc.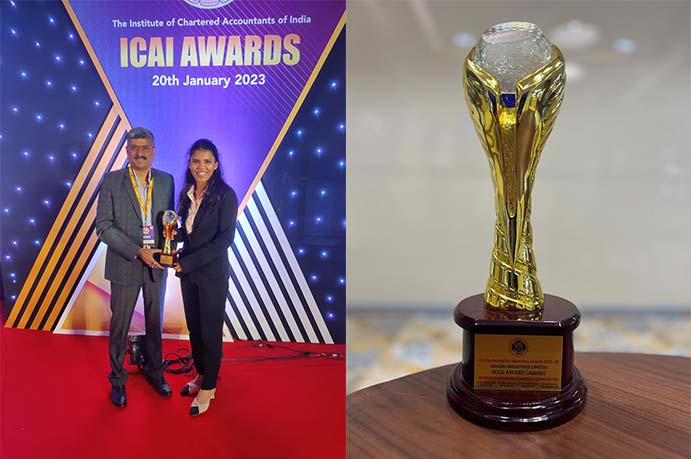 ICAI established a mechanism and platform to recognize and reward the entities' efforts in preparing and presenting ESG information
Pavan Jain , CFO Grasim industries said "Grasim's ESG journey has been very transformational in last few years, and we have achieved major milestones on the reporting front and are trying best to be in forefront of reporting. We are committed to best-in-class ESG disclosures for the benefits of all our stakeholders"