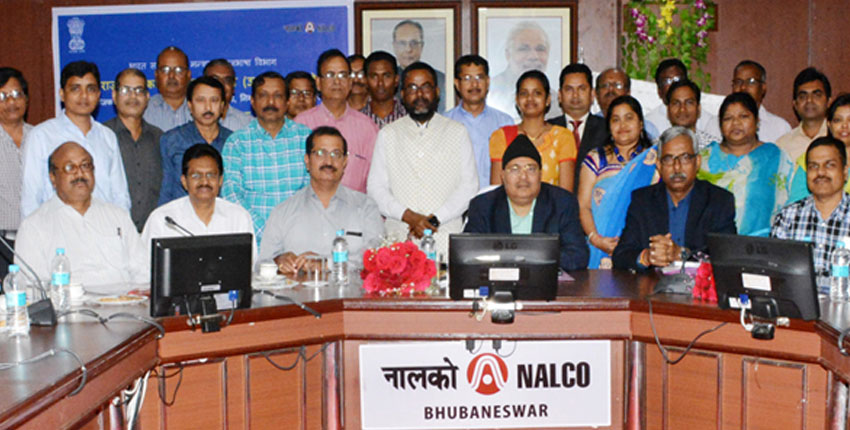 Bhubaneswar, 18/02/2017: The Fifth half-yearly meeting of Bhubaneswar Town Official Language Implementation Committee (Undertakings) was organized on 17th February at NALCO's Corporate Office. The meeting was presided by Dr. Tapan Kumar Chand, CMD, NALCO and Chairman of the Committee. Shri Basant Kumar Thakur, Director (HR), NALCO, Shri R. Mahalingam, Director, Airport Authority of India, Shri Bikash Ranjan Mohanty, State HR Head of Indian Oil Corporation Ltd., Shri H.K. Meena, Asst. General Manager, Food Corporation of India, Shri Chandan Kumar, General Manager, ITDC, Shri S.S. Haldar, Dy. General Manager, ITI Ltd, were the guests of honour on the occasion.
The meeting was also attended by Hindi officers of BSNL, LIC of India, United Insurance Co. Ltd., Oriental Insurance Co. Ltd., New India Assurance Co. Ltd., MMTC Ltd., SAIL, RINL, NTPC Ltd., RITES, ESI Corporation, NCDC, ECGC Ltd., Central Warehousing Corporation, Power Grid Corporation Ltd., BEML Ltd, REC Ltd., IOCL, FCI, ITDC and ITI Ltd. and other CPSUs of Bhubaneswar. The second issue of Hindi E-magazine 'Anant' was released by Dr. Chand in the meeting, which was much appreciated.
Discussions were held, among the members, on organizing joint programmes like Hindi Workshop, Hindi Competitions, instituting Hindi Awards for the Office doing best jobs in Hindi and constituting of sub-committees for increasing use of Hindi in Official work. Shri B.K. Thakur, Director (HR), NALCO, reviewed the quarterly progress report of the offices and suggested several steps for improvement.
After the discussion among members, the Chairman Dr. Chand mentioned that Hindi is used as language of general communication among different states and is popular for its simplicity. He suggested holding regular Hindi workshops, constitution of Advisory sub-committee and organising a Hindi Kavi Sammelan for enhancing the use of Hindi in day-to-day official jobs. He urged all the representatives of member-offices use Hindi in maximum possible official work. The meeting was coordinated by Shri Hariram Pansari, Member-secretary of the Committee and Manager (Rajbhasha) of NALCO.