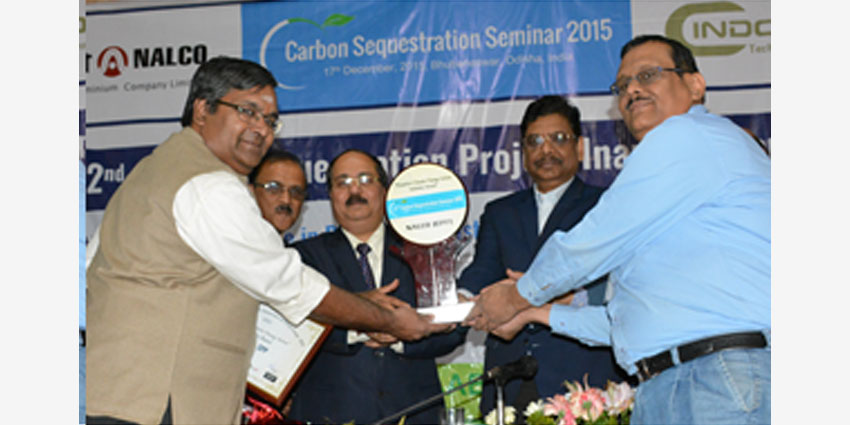 Bhubaneswar, 17/12/2015: The Thermal Captive Power Plant of National Aluminium Company Limited (Nalco), located at Angul, Odisha, has been awarded for 'proactive climate change'. It may be mentioned that Nalco, as the first company in the country, is implementing a pilot-cum-demonstration project on Carbon Sequestration in its Captive Power Plant, which will reduce carbon emission by harnessing special strains of algae.
The award was given away at a seminar on 'Microalgae in developing a Sustainable Society', organized jointly by State Pollution Control Board, Odisha, Indocan Technology Solutions, The Institute of Engineers (India) and Institute for Applied Environmental Biotechnology Innovation, at the State capital today.
Gracing the occasion as Chief Guest, Mr Tapan Kumar Chand, CMD, Nalco assured the researchers, academicians and professionals present on the occasion that "Considering the exhilarating results that Nalco has achieved, we shall scale up the pilot project to a commercial plant soon."
On behalf of Nalco, Mr V. Balasubramanyam, Director (Production) and Mr S.K. Naik, AGM (SH & E), received the prestigious award. Besides industry, in the individual category, Mr Siddhanta Das, IFS, Addl. PCCF (Nodal) was also awarded on the occasion.
Among others, Mr Rajiv Kumar, IFS, Member Secretary, State Pollution Control Board, Odisha; Dr. T. Venugopalan, Advisor, Tata Steel and Prof. Ranjan Pradhan of Indocan Technology Solutions, addressed the inaugural session.
It may be mentioned that Odisha intends to take up algal cultivation for carbon sequestration as one of the climate change action plans of the State. The contribution of biological measures for climate change is also one of the inclusions in India's agenda at United Nations Paris Convention.