NALCO CMD calls for Global Benchmarking for B-Schools of Odisha

14/11/2015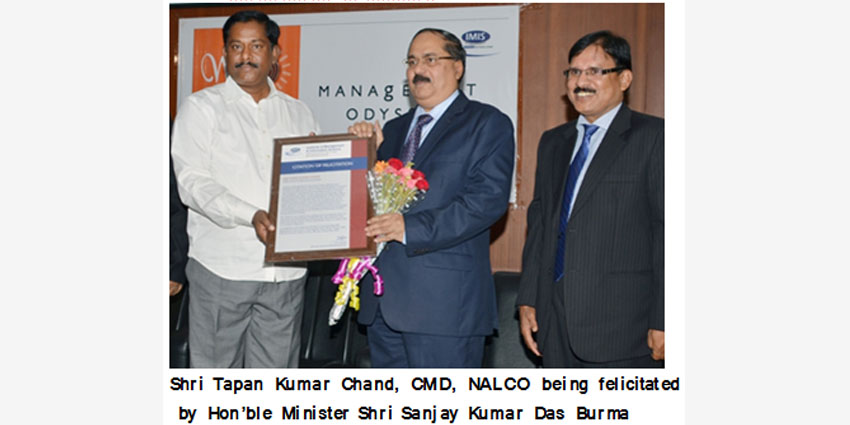 Bhubaneswar, 14/11/2015: Institute of Management & Information Science (IMIS), a premier B-School located at Bhubaneswar has conducted a national B-School Meet today. Shri Sanjay Kumar Das Burma, Hon'ble Minister of State (Independent Charge), Food Supplies & Consumer Welfare, Employment and Technical Education & Training, Govt of Odisha graced the occasion as the chief guest and Shri Tapan Kumar Chand, CMD, NALCO was the chief speaker. In his keynote address to the students of B-Schools coming from different institutions of the country, Shri Chand estimated that the current economic downturn is likely to bottom out by 2017-18 and business boom cycle will commence thereafter. Industries and institutions should plan and prepare to take advantage of the upcoming industrial upsurge.
CMD, NALCO also informed that NALCO has already developed blueprint for expansion of its business with Rs.30,000 crore investment in the state of Odisha, where its entire value-chain, from bauxite-mining to aluminium-making, is located. He has called upon business schools to increase interaction with industries and step up their standards to meet global level. "What we want from B-Schools of Odisha is to offer world-class business education and world-class managers," Shri Chand added.
On this occasion, IMIS Management and Hon'ble Minister Shri Sanjay Kumar Das Burma felicitated Shri Chand for taking initiatives towards the development of industries in the state and for business education.
Among others, Shri H.K. Patnaik, Director General, Shri K.K. Beuria, Advisor and Dr. Usha Kamilla, Director of IMIS, were also present.