NALCO & IMIDRO to constitute Joint Task Force for Smelter & Power Plant in Iran

11/04/2016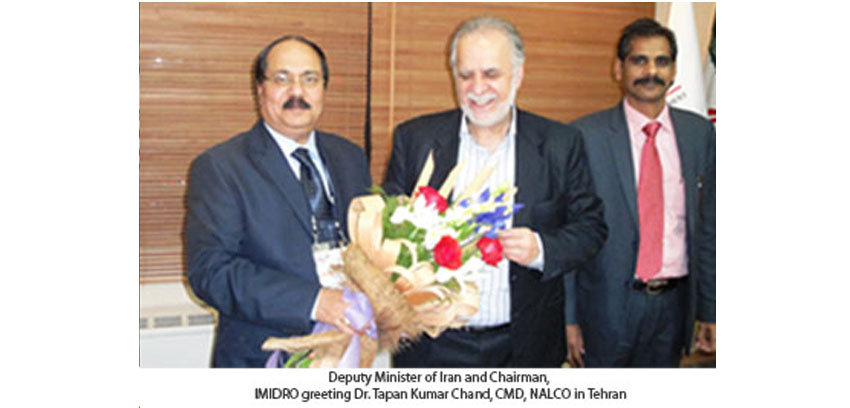 Bhubaneswar, 11/04/2016: National Aluminium Company Limited (NALCO), a Govt of India Enterprise and Iranian Mines & Mining Industries Development & Renovation Organization (IMIDRO) shall constitute a Joint Task Force, comprising senior projects, operations and marketing executives of NALCO, Directors of Ministry of Industries, Govt of Iran and senior executives of Iranian Aluminium Company (IRALCO) to deliberate on the proposed smelter and gas-based power plant in Chabahar Free Trade Zone. The Joint Task Force has been given three months to submit its report.
"The project would help NALCO to use low cost energy available in Iran for conversion of its alumina, presently exported to international markets, to aluminium. The aluminium products from the Joint Venture Company are expected to be highly cost competitive combining the advantages of low cost NALCO alumina and low cost Iranian energy," said Dr. Tapan Kumar Chand, CMD, NALCO. Dr. Chand is in Iran as part of Indian business delegation, led by Dharmendra Pradhan, Union Minister for Petroleum and Natural Gas, Govt of India. During this visit, Dr. Chand held discussions with Deputy Minister of Industry, Mines & Trade, Govt. of Iran, Chairman of IMIDRO and top officials of Govt. of Iran and other aluminium companies.
Based on the report, ownership pattern, project financing, long-term supply of gas and other aspects shall be decided. A team from IMIDRO is likely to visit NALCO shortly. Dr. Chand has thanked Minister Dharmendra Pradhan for taking initiative in taking up NALCO's proposal including gas pricing, long term supply of gas and allotment of land in Chabahar at the highest level of Iranian Govt.