NALCO inks MoU for Skill Development, First in Mining Sector

20/11/2015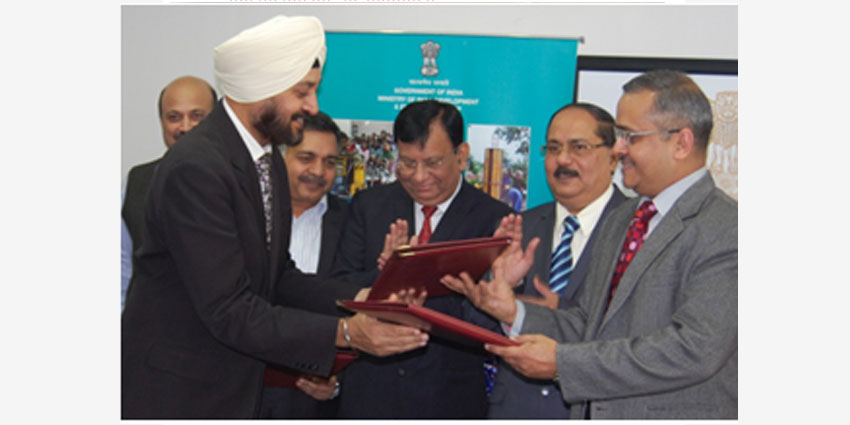 Bhubaneswar, 20/11/2015: National Aluminium Company Limited (NALCO), the Navratna PSU, under Ministry of Mines, Govt of India, has entered into an MoU for skill development with National Skill Development Corporation (NSDC) and National Skill Development Fund (NSDF), in presence of Mr. Rohit Nandan, Secretary, Ministry of Skill Development & Entrepreneurship (MSDE) and Mr T.K. Chand, CMD, NALCO, in New Delhi yesterday. Speaking on the occasion, Mr Chand said that the MoU assumes great importance because it is the first such agreement in the mining sector of the country. "With this, we have committed 5% of our CSR budget for this capacity building programme and MSDE has evinced interest in developing a Centre of Excellence in NALCO," he added.
On behalf of NALCO, Mr A.S. Ahluwalia, ED (Corporate Affairs) signed the MoU, while NSDC and NSDF were represented by respective CEOs Mr Jayant Krishna and Mr Pawan Agarwal. Other dignitaries present on the occasion include Mr Rajesh Agarwal, Joint Secretary, MSDE, Mr Shersha, Director, Ministry of Mines and Dr. Sunita Chibba, Senior Advisor, MSDE.
It may be noted that Prime Minister had launched Skill India Mission during July this year, which envisages scaling up skill training efforts to meet the rising national demand and enhance employability of youths of the country. It is estimated that only 2.3% of the workforce in India has undergone formal skill training as compared to 52% in USA, 68% in UK, 75% in Germany, 80% in Japan and 96% in South Korea.