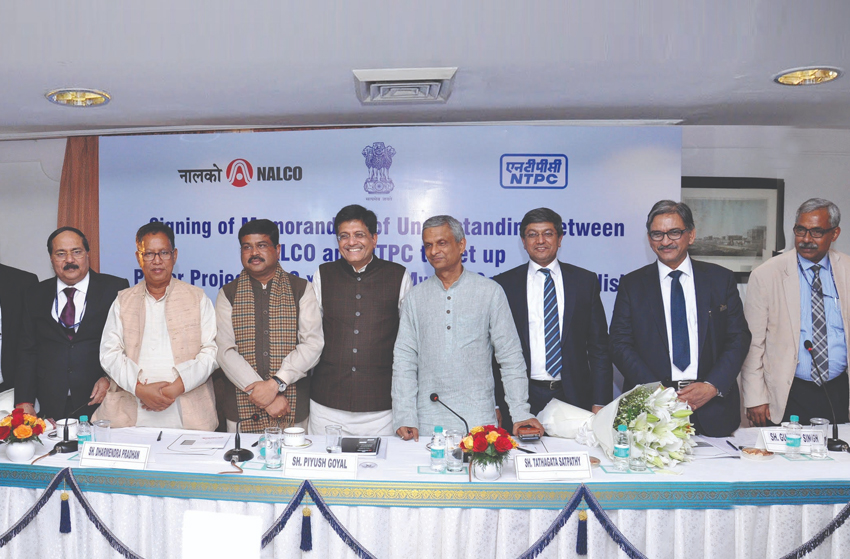 Bhubaneswar, 16/12/2016 : National Aluminium Company Limited (NALCO), the Navratna PSU, under Ministry of Mines, Govt of India, and NTPC Ltd., the Maharatna Power Producer have entered into an MoU, for developing power projects and other business collaborations in India. The MoU was signed in New Delhi on 16th December 2016. Under the MoU, the companies will float a Joint Venture namely NTPC-NALCO Power Company (NNPC) to set up power plants. The first such power plant is planned at Gajamara, Odisha with a capacity of 2,400 MW (3X800 MW), at an estimated investment of Rs. 14,000 crore. The proposed super critical power plant with state-of-the-art technology will supply uninterrupted power to NALCO's Smelter at Angul. The process for acquisition of 1,600 acres of land in Gajamara has already commenced.
On behalf of NALCO, Dr. Tapan Kumar Chand, CMD and Shri B.K. Thakur, Director (HR) signed the MoU, while Shri Gurdeep Singh, CMD and Shri Kulamani Biswal, Director (Finance) represented NTPC. The MoU was signed in presence of Shri Piyush Goyal, Hon'ble Minister of State (IC) for Power, Coal, New & Renewable Energy and Mines, Shri Dharmendra Pradhan, Minister of Petroleum and Natural Gas, Govt of India, Shri Prafulla Kumar Mallik, Minister of State (IC) for Labour & Employees State Insurance, Steel and Mines, Govt of Odisha and Hon'ble MP Shri Tathagata Satpathy.
Speaking on the occasion, Minister Shri Piyush Goyal highlighted that joint venture is a win-win situation between NALCO & NTPC two best performing CPSUs. NALCO is planning a brownfield expansion at its Aluminium Smelter in Angul, with an additional capacity of 5 lakh tonnes per annum, at an estimated CAPEX of Rs.10,000 crore. The company possesses the required land and other infrastructure for the purpose. The proposed expansion will help the Navratna CPSE to achieve economy of scale and substantially reduce its cost of production. This expansion will be taken up immediately by NALCO, incorporating latest technology ensuring reduced energy consumption and high productivity. The Minister also mentioned that NALCO is also planning to set up a greenfield Aluminium Smelter project with a capacity of 6 lakh tonnes per annum in Kamakhyanagar, Odisha at an estimated investment of Rs.12,000 crore. The state-of-the-art plant is also proposed to be equipped with latest Smelting Technology.
Shri Dharmendra Pradhan in his address informed that it's a dream come true for the people of Odisha as a power project at Gajamara, Smelter project at Kamakhyanagar, Brownfield expansion of smelter at Angul by NALCO and TTPS project by NTPC will all together bring an investment of 48,000 crore to Odisha which will greatly enhance the industrialisation, development and employment generation in Odisha.
On this occasion Hon'ble Minister of Odisha Shri Prafulla Mallik and Hon'ble MP Shri Tathagata Satpathy complimented NALCO & NTPC for taking up the projects that will speed up industrialisation and development.