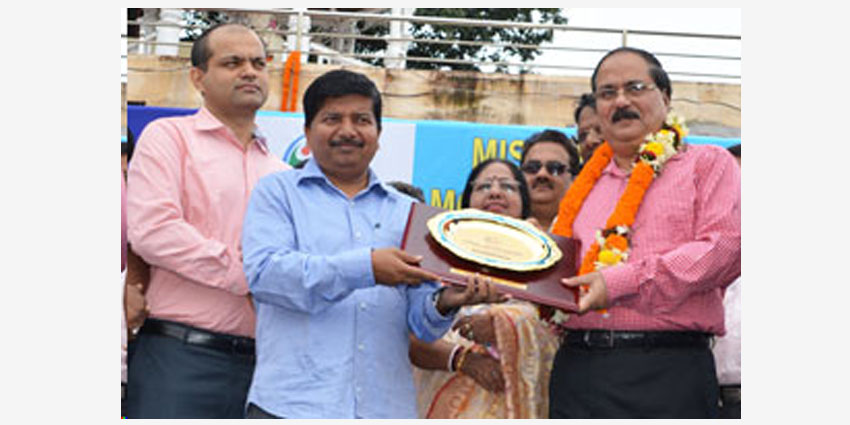 Bhubaneswar, 02/11/2015:  "In India, cancer is more rampant in North-East region due to tobacco addiction. And in Odisha, the incidences of oral cancer are very high in Puri because of easy access to 'zarda-paan', due to betel-cultivation in the district," says Shri T.K. Chand, CMD, Nalco. "As such, consumption of betel leaves is good for health, but when tobacco is added to it and kept in the mouth overnight, it leads to cancer," Shri Chand clarified. Tobacco chewing has emerged as a major concern, leading to the death of nearly 6 million people worldwide every year. As per the recent survey, in India, around 1 million lives are lost every year due to this addiction.
Shri Chand expressed this while attending the inaugural ceremony of 'Youth against Tobacco' at Singh Dwar in Puri yesterday. This campaign has been initiated by the voluntary organization Mission Odisha, with the active support of National Aluminium Company Limited (Nalco). Around 300 school children and volunteers participated in the inaugural ceremony of the campaign. As part of the campaign, 4 persons viz. Madhu Sudan Mishra, Rashmi Ranjan Dash, Kedarnath Mohapatra and Chandi Prasad Pattanaik, have started their journey on motorcycles, which will cover 8 states in North-Eastern region of India to spread awareness among the youths about the health hazards of tobacco-chewing.
The motorcycle rally was flagged off by Shri Atanu Sabyasachi Nayak, Minister, Health & Family Welfare and I&PR, Govt of Odisha, Shri T.K. Chand, CMD, Nalco, Shri Arvind Agarwal, Collector and Shri Asish Singh, SP of Puri.
On the occasion, an anti-tobacco Sand Animation film by Shri Manas Sahoo was released.
Shri Badri Mishra of Mission Odisha, lauded the support provided by Nalco in this campaign and expressed his gratitude towards its CMD Shri Chand. Shri Chand was conferred with Utkal Ratna Award by Mission Odisha on the occasion.