Odisha gets its first-ever Solar Village

02/10/2015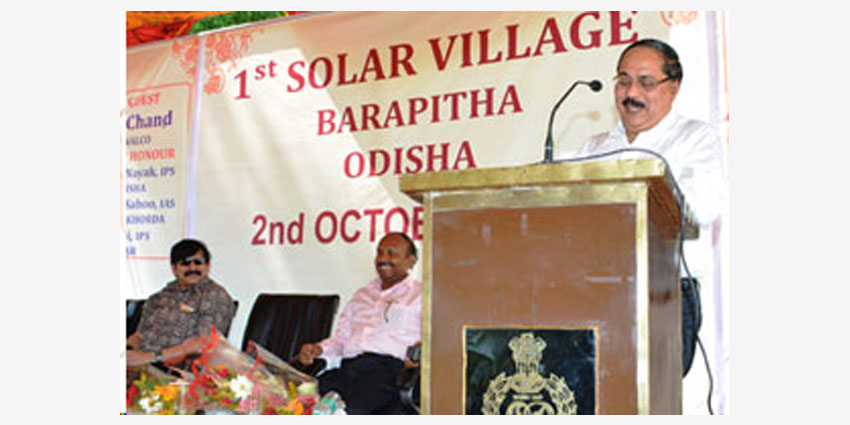 Bhubaneswar, 02/10/2015:  Barapitha, a tribal hamlet in the outskirts of Bhubaneswar has become the first Solar Village of Odisha. The solar project was inaugurated today by Shri Tapan Kumar Chand, CMD, NALCO, in the presence of Shri Joydeep Nayak, IPS, IGP Odisha, Shri Niranjan Sahoo, IAS, Collector & DM Khordha and Shri S. Bhoi, DCP, Bhubaneswar.
"While today Green Energy has become a buzz word, the vision behind such an innovative initiative was to enhance the usage of non-conventional energy sources in households," Shri Chand said. He congratulated Shri Joydeep Nayak for conceptualizing the idea of transforming this hamlet with hundreds of households into a solar village. NALCO, ECCO and Jakson Solar have supported this project.
NALCO, as an environment-conscious organization, has already taken steps towards harnessing unconventional energy sources. The company has set up two Wind Power Plants in Andhra Pradesh and Rajasthan. In the field of solar power, it has installed roof-top solar power generation systems at its corporate office and township. NALCO is fast emerging as a leading organization in promoting green initiatives.
"On behalf of NALCO, I assure you that our company will continue its efforts to promote green technology and support such innovative measures," Shri Chand added.
Informing about the project, Shri Joydeep Nayak said that under this project, each household of this village will be having 2 Solar Home Lighting Systems with the facility to charge mobile phones and other devices. The village roads and school will have Perennial Solar Lighting by Mast Head Lighting and Street Lighting Systems. The Village Community Centre has been provided with an LED TV, with Dish Antenna, which runs on Solar Power.