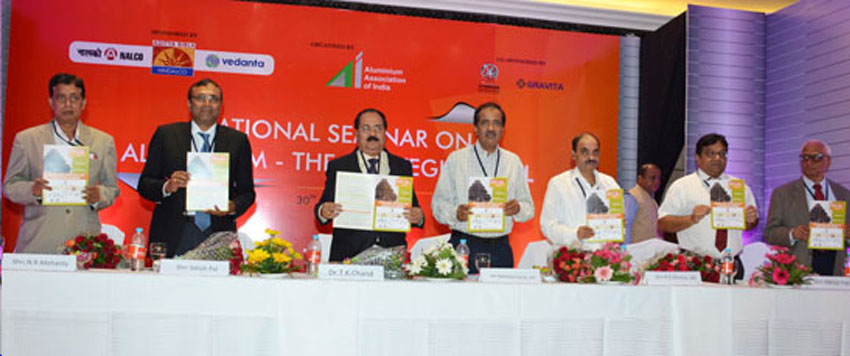 Bhubaneswar, 30/06/2016: "With more than half the bauxite reserves of the country and massive presence of Nalco, Hindalco and Vedanta, Odisha is soon going to be the Aluminium Capital of India," said Mr. Balvinder Kumar, Secretary, Ministry of Mines, Govt of India. He was addressing the inaugural session of the national seminar on 'Aluminium: The Strategic Metal', organized by Aluminium Association of India (AAI) here today. He expressed his happiness that despite varying business interests, aluminium majors, primary producers and secondary producers have gathered under the AAI umbrella to collectively counter the market downturn in aluminium sector.
Mr. Kumar assured the house that Aluminium Development Council, as suggested by Dr. Tapan Kumar Chand, President, Aluminium Association of India and CMD, Nalco, shall be set up soon to strengthen the aluminium industry of the country. He further informed that on AAI's recommendation, the Ministry of Mines has asked the Railway Ministry to charge the freight of bauxite at par with limestone and include alumina in the non-metal segment.
Besides, Mr. Kumar complimented Nalco for accepting Govt of India's suggestion to take up Jagannath Temple in Puri under Swachh Bharat Mission. He urged other aluminium players to adopt villages under open-defecation-free programme.
Speaking on the occasion, Mr. R.K. Sharma, Principal Secretary to Govt of Odisha, Ministry of Steel & Mines said that there is a vast scope for the aluminium industry in India at large and in Odisha, in particular. Mr. Sharma complimented Dr. Chand, President, AAI, for organizing this national seminar in Bhubaneswar, bringing experts from diverse disciplines of aluminium industry to one platform. It may be noted that the seminar is a precursor to International Conference on Aluminium (INCAL 2017), which will be held in Bhubaneswar next February.
Speaking on the occasion, Dr. Chand said that while the aluminium industry across the globe is passing through sluggishness, AAI is taking up steps to strengthen the sector through various initiatives. He stressed on cost reduction, making domestic market more vibrant and enhancing the aluminium market through introduction of various value-added and high-end products.
In the technical session, Mr. Abhijit Pati, CEO (Aluminium Business) of Vedanta spoke about developing the ancillary and downstream industry through aluminium parks and strategic business models, while Mr. Satish Pai, Deputy Managing Director of Hindalco outlined the aluminium outlook, particularly in the wake of dumping of surplus aluminium by China. Among others, Mr. N.R. Mohanty, Vice President and Prof. K.S.S. Murthy, General Secretary, AAI were also present.