By
TAPAN KUMAR CHAND
Chairman-cum-Managing Director, National Aluminium Company Limited
(A Navratna CPSE, under Ministry of Mines, Govt of India)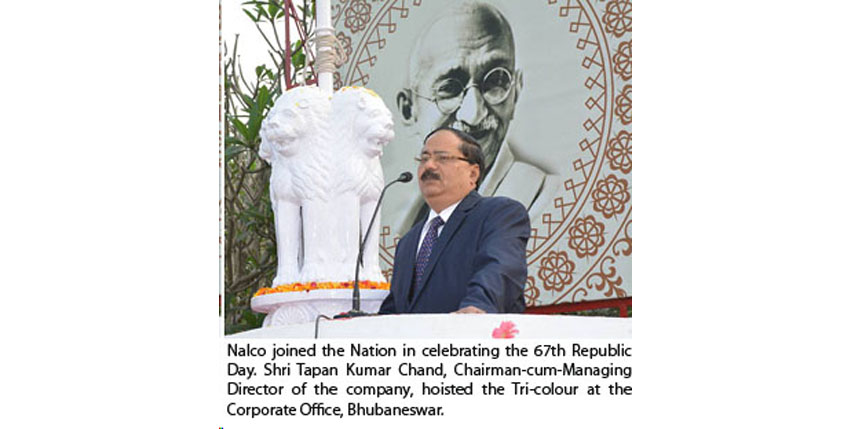 Bhubaneswar, 26/01/2016 : Dear Nalconians & Family Members, People of Odisha, Stakeholders & Well-wishers of Nalco and all Indians living in the country & abroad ! My Hearty Greetings to all of you on the occasion of 67th Republic Day of our country.
Today, on this historic occasion, we have gathered under the Tricolour, with a sense of pride, to pay homage to the architects of our Constitution for their foresight and firm faith in democratic system of governance. It is also a day when we recall with gratitude the sacrifices of our freedom fighters, for giving us a country where we can live with dignity and respect.
26th January 1950 was the day when India became a Sovereign, Socialist, Secular, Democratic Republic, ensuring Justice, Liberty, Equality and Fraternity to all its citizens. When we look back at free India's long journey as a Nation, we are filled with pride that today India is the largest democracy with rule of law.
Nalco, symbol of pride and self-esteem of people of Odisha : 
Nalco is the symbol of self-reliance and technological might of the country in strategic metal making. It is the symbol of self-esteem of the people of Odisha. We are proud and privileged to be a part of the Nalco Family, a compact and committed team of ordinary people with extraordinary attitude, striving continuously towards making this Navratna CPSE the pride of the State and the Nation.
Global & domestic aluminium market: 
We are passing through a difficult time. World Aluminium market is sluggish and is in slump cycle. Global aluminium production has out-passed consumption by 2.6%, making a surplus of roughly 1.4 million tonnes in 2015. Slowdown in consumption in China has resulted in dumping of surplus production of that country in international market, making a steep fall in metal prices. At present, Aluminium prices are moving in a narrow band of around 1500 US $ per tonne much below the cost of production of primary producers. 70% of companies in the world have reported cash loss. Many smelters have been closed and many more are resorting to production cut. In India, though consumption is increasing by 6%, mainly on account of increase in demand in electric and electronics sectors, increase in import has become a matter of serious concern as volume of import has exceeded 1.6 million tonnes in 2014-15 and is continuously on the rise. Aluminium import constitutes 56% of total domestic consumption of metal, leaving only 44% of the market to domestic producers.
Nalco, the silver lining in sluggish market : 
It is said, 'Fortune favours the Brave'. Despite such an extreme market downturn, Nalco has been successful in maintaining its production and profitability. By the end of 3rd quarter, cumulative production in Bauxite has gone up to 45.74 lakh tonnes with a growth of 6.27% over the corresponding period of last yesr. By end of 2015-16, the production is likely to be at the level of 63 lakh tonnes, a growth of 10%. Similarly, in production of Alumina Hydrate, there is likely to be a growth of 2.6%, in Aluminium 14% and Net Power 14% by the end of this fiscal. In profitability, Nalco has registered 39% growth in Profit After Tax in Q2 over Q1. But due to continuous downturn in the market, profitability during this financial year has remained depressed as compared to the last year. But Nalco collective is determined to make a difference with other industry peers by remaining afloat with profitability and augmenting production by declaring the last quarter January – March as production months. While productivity and profitability are in focus, we should not lose sight of cost saving measures.
All-weather New Business Model (NBM) : 
Given the tough going in the market, Nalco, the leading foreign exchange earner of the country amongst the CPSUs, is developing a new Corporate Plan with a new business model that will withstand market onslaughts and keep the company afloat with profitability. The New Business Model (NBM) strengthens aluminium business by reducing the cost with increase in volume of production through modernization and brownfield expansion and upstream & downstream integration. Besides this, the model envisages diversification into Green Power, Nuclear Power, IPP, rare metal like titanium, recovery of iron from red mud waste, merchant mining, etc. that are immune to downturn in metal market. We have already formed a Joint Venture Company with Gujarat Alkalies & Chemicals Limited for a Caustic Soda Plant at Dahej in Gujarat. We are also exploring the opportunity to set up a greenfield aluminium smelter abroad, where energy would be available at a competitive price. The company has started discussions with Iran, Oman, Qatar and Indonesia in this regard.
Sunny days ahead for aluminium market in India : 
Sunny days for aluminium industries is ahead as consumption in the country is slowly picking up in the backdrop of increase in GDP to 7.3 to 7.5 % this fiscal and availability of consumption potential of more than three multiples (average consumption is 2.2 kg in India while global average consumption is 8 kg per capita).Growth in electrical & electronics sectors, construction, transport & automobiles are likely to trigger more consumption.
Nalco to set up Damanjodi Refinery of Rs.6,000 crore : 
Nalco is the dream of the people of Odisha and we are committed to realize the dream. As a partner in the progress of the State, Nalco has a plan to invest to the tune of Rs.30,000 crore in next five years, out of which Rs.6,000 crore Refinery Project in Damanjodi is immediately on anvil. Brownfield project of Smelter & Power Plant of Rs.15,000 crore and Utkal D & E Block development around Rs.1,500 crore along with Titanium Slag project and Angul Aluminium Park are in pipeline. The company is planning to send a team to Middle-East countries to study world class aluminium upstream & downstream units in Emirates and Dubal Aluminium Parks for developing the blue print.
Nalco to be partner in promotion of art, architecture & culture of Odisha: 
Nalco is a partner not only in the industrial progress of the State but is also a promoter in art, architecture and culture of Odisha. For promoting Odissi Dance and Literature, the company is taking several steps like institution of awards and scholarship for the exponents and students. In the coming days, Nalco will take many more initiatives in the cultural areas for promotion and preservation of rich cultural heritage of Odisha.
In the areas of environment management, apart from complying all statutory provisions, the company has planted 6.8 million trees till date and has taken up avenue plantation along the National Highway from Bhubaneswar to Cuttack. 'Nalco Green Award' and 'Nalco Nilambu Chilika Award' are some of the catalytic measures for protection of ecological system.
Nalco to do empathetic CSR, Caring and Sharing to be the motto : 
In the areas of CSR, the company's focus is on bringing a caring and sharing human face through empathetic welfare and CSR measures. A unique scheme 'Nalco-ki-Ladli' has been launched this year by the company to support BPL girl children in their education. We are also giving importance to provide basic amenities to the communities living in our vicinity. The initiative taken by the company to provide piped water supply to 13 peripheral villages in Angul, setting up a modern eye hospital in Angul at a cost of Rs.15 crore, free OPD facility to the peripheral villagers are some of the examples. Nalco has committed an additional expenditure of Rs.300 crore towards CSR in the tribal belt of Koraput, as well as Angul and other parts of the State, besides 2% of its net profit.
Awards & accolades : 
I am also happy to mention here that Nalco has received some prestigious awards and accolades during 2015 for its performances in different fields of operations. To mention a few: Nalco received EEPC (Engineering Export Promotion Council)'s Star Performer Award, for its outstanding export performance during the year 2013-14. Our Bauxite Mines bagged the Pollution Control Excellence Award -2015, instituted by the State Pollution Control Board, Odisha (OSPCB). Our Alumina Refinery received the Kalinga Safety Award – 2014, in the 'Gold' category, at the Odisha State Safety Conclave – 2015. We also bagged the Performance Excellence Award, instituted by the Indian Institution of Industrial Engineering (IIIE). Again, our Alumina Refinery bagged the prestigious Business Excellence Star Recognition Award. The Institute of Quality, CII adjudged Nalco the "Leader in Process Industries, for Excellence in Operations Management". Our Captive Power Plant was awarded for 'proactive climate change', during a seminar on 'Microalgae in developing a Sustainable Society'. Nalco has also been selected for CAPEXIL's Highest Export Award for the year 2012-13, to be received this month.
Nalco promotes patriotism : 
And, while we make efforts to take Nalco to a new height of success, we have given focus on our duty as the citizens of this great Nation. To promote and propagate patriotism across the state and the country, Nalco, in association with more than 100 institutions, organized an all-inclusive Mini Marathon that received huge response from the people making it the biggest Marathon in India. The event has reminded Nalco that people are there with the company. Nalco takes the pledge to rededicate to the State and the Nation. Let the spirit of being an Indian amalgamate with our pride of being a Nalconian.
With these words, on this Republic Day, I convey my heartiest greetings and best wishes to you and your family members once again.
JAI HIND!