Tata Chemicals Aniali Limestone Mine Awarded Five-Star Rating by GOI for the fourth year in a row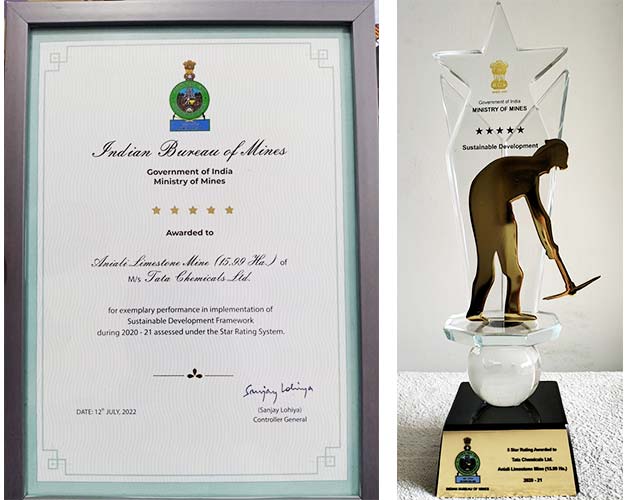 Mumbai, 20th July 2022: Tata Chemicals' Aniali Limestone Mine in Porbandar, Gujarat has been conferred with a 5-Star Rating by the Ministry of Mines, GOI at the 6th National Mineral Conclave by Shri Pralhad Joshi, Minister of Mines, marking it the fourth consecutive year the company is receiving this award. With over 1,000 applications received, only 40 mines meeting Sustainable Development requirements were awarded this five-star rating.  
The award has been given to Tata Chemicals for its initiatives undertaken for sustainable development for four consecutive years. This includes implementation of best practices in mining operations, minerals conservation, rehabilitation & reclamation of mined-out areas, environment protection and also various steps taken in healthcare, community care and skill development.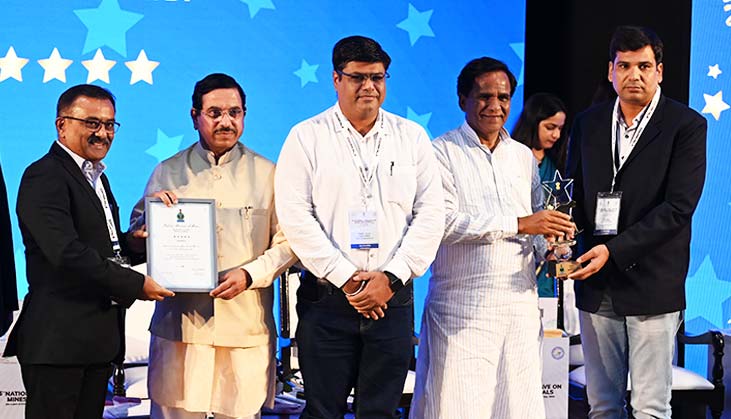 "It is a huge honour that Tata Chemicals has been conferred with the 5-Star Rating Award from the Government of India. We are already committed to the science-based target initiative and these efforts dovetail with our vision of being a sustainable chemistry solutions company and our values of safety, passion, integrity, care and excellence. We will continue to provide value in benefiting all our stakeholders with a focus on science-led innovations, digitisation and sustainability as the core focus of our operations," said Mr Shohab Rais, Chief Operating Officer, Tata Chemicals.
This five-star rating scheme instituted by the Ministry of Mines, Government of India is designed to have a built-in compliance mechanism for environment and forest safeguards and help in recognizing good performers in the mining sector while encouraging all mining lease holders to strive for excellence.

About Tata Chemicals Ltd.
A part of the US$ 100+ billion Tata Group, Tata Chemicals Limited, is a leading supplier of choice to glass, detergent, industrial and chemical sectors. The company has a strong position in the crop protection business through its subsidiary company Rallis India Ltd. Tata Chemicals has world-class R&D facilities in Pune and Bangalore.
For more information please contact:
Manisha Keshwa | Sunanda Parekh  

Corporate Communications                         

Tel:  +91 8879288634 |+ 91 9820111136

mkeshwa@tatachemicals.com|

sparekh@tatachemicals.com
Radhika Dave | Sweta Bharti

Adfactors PR

Mobile – 98190 83792| 8294015480

radhika.dave@adfactorspr.com

sweta.bharti@adfactorspr.com