Tata Swach Tech Jal Community Water Purification units make clean and safe drinking water available for rural communities across 23 Indian states
—Ncourage Social Enterprise Foundation, a subsidiary of Tata Chemicals facilitates the availability of pure drinking water in more than 300 villages and 116 schools—

— Over 1 lakh people gain access to clean and safe drinking water —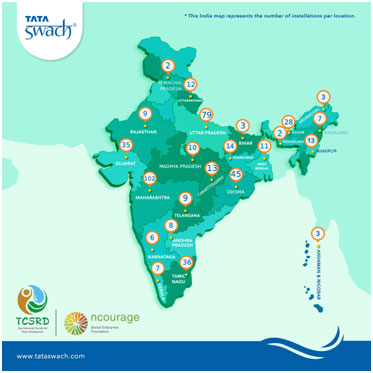 Mumbai, 26th August 2022: Ncourage Social Enterprise Foundation, a subsidiary of Tata Chemicals, has installed 457 'Tata Swach Tech Jal' water purification units over a period of 5 years to make safe water accessible in remote areas of the country. Undertaken across 23 states in India, this initiative is benefiting over a lakh populace.
With this, people from over 300 villages across India now have access to clean drinking water, reiterating Tata Chemicals' mission of 'Serving Society through Science'. People residing in rural areas are the major beneficiaries of the Tata Swach Tech Jal water purification units, especially since the lack of water can lead to many waterborne diseases. These units have made filtered water accessible and affordable for them. 116 schools from across the country are also benefitting from this initiative.
"Tata Chemicals always strives to give back to society. Safe drinking water is a basic necessity for health. We have seen how people living in remote areas often suffer due to lack of potable water. This is due to the support of our 70+ partners & people, that the number of 'Tata Swach Tech Jal' water purification units installed has seen significant growth of 81% compared to last year" said Mr. R Nanda, Chief of HR and CSR, Tata Chemicals.
Tata Swach Tech Jal water purification units are hailed as a sustainable option for water purification, as it works without electricity and water wastage. Generally, with RO purifiers a lot of water goes to waste during the filtration process. But the Tata Swach Tech Jal water purification units function on advanced Ultrafiltration purification technology which gives clean drinking water with negligible water wastage, unlike conventional ROs where about 60% of water is wasted during the process of purification. This sustainable option provided by Tata Chemicals is in line with the theme of World Water Week 2022 of seeing the unseen significance of water.
Started in 2018, Ncourage is a social enterprise that undertakes activities that help solve the basic issue of clean and safe drinking water, which facilitates in curbing water-borne diseases.
"We have been able to provide these facilities in India at a time when one in three people do not have access to safe drinking water in the world, as per the United Nations. It is our consistent endeavour to pursue such projects for the wellbeing of our communities and uphold our values of SPICE – Safety, Passion, Integrity, Care and Excellence," said Mr. R Nanda.

Apart from providing clean water to the communities, this initiative has also helped to encourage entrepreneurship at the community level through setting up of water kiosks to dispense potable drinking water at very affordable cost. Currently such Tata Swach Tech Jal dispenser units are functioning across the states of Telangana, Maharashtra, Andaman & Nicobar, Rajasthan and Andhra Pradesh.
About Ncourage Social Enterprise Foundation

Ncourage is a Social Enterprise by Tata Chemicals anchored to the purpose of creating scalable social impact. Its core intervention areas include providing clean drinking water in rural areas, empowerment of rural women & youth among others. Ncourage has been actively undertaking the task of installing 'Tata Swach Tech Jal' water purification units in remote areas across India which can in turn contribute towards the abatement of waterborne diseases. It has been partnering with relevant stakeholders to ensure wider reach of this initiative to make water affordable and accessible to people in remote areas. Ncourage aims to enable an ecosystem that invests in capacity building, rural entrepreneurship development, market linkage and upliftment of livelihoods through quality products and services. It is centred on the vision of inclusive growth of each stakeholder, from community, channel partners, collaborators, internal torch bearers, to the consumer. Ncourage has envisaged a world built on the strong pillars of social equity, and that a sustainable change creates a new, empowered future.
About Tata Chemicals Ltd.

A part of the US$ 128 billion Tata Group, Tata Chemicals Limited, is a leading supplier of choice to Glass, Detergent, industrial and chemical sectors. The company has a strong position in the crop protection business through its subsidiary company Rallis India Ltd. Tata Chemicals has world-class R&D facilities in Pune and Bangalore.
For more information please contact:

Manisha Keshwa | Sunanda Parekh

Tata Chemicals | Corporate Communications

Tel: 91 8879288634 | + 91 9820111136

Email: mkeshwa @tatachemicals.com | sparekh@tatachemicals.com
Radhika Dave | Sweta Bharti

Adfactors PR

Mobile: 98190 83792| 8294015480

Email: radhika.dave@adfactorspr.com | sweta.bharti@adfactorspr.com