High degree of co-relation between effective organization and effective HR – Dr. Chand, Nalco CMD

19/01/2017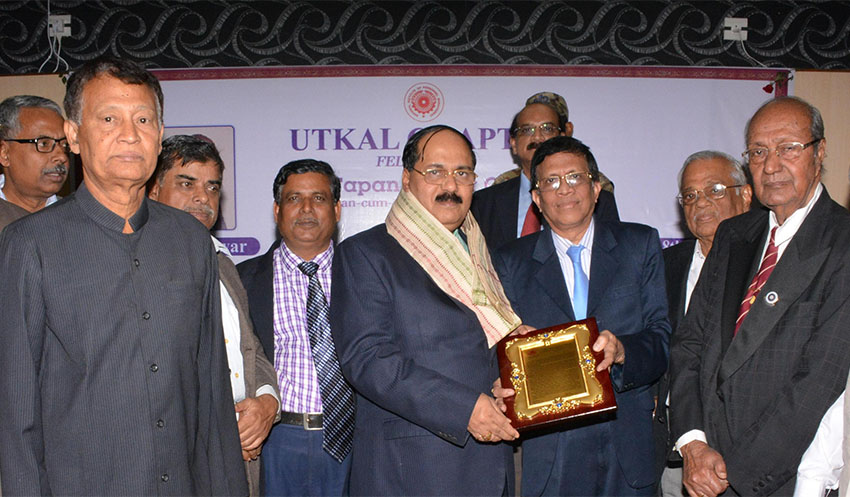 Bhubaneswar, 19/01/2017 : National Institute of Personnel Management (NIPM), Utkal Chapter held its meeting on 18 th January in Bhubaneswar. The meeting was attended by industry veterans, former CMD's & Directors, serving Directors and General Managers from different industrial organizations, HR professionals & experts. Delivering his keynote address, as Chief Guest, Dr. Chand said "People make things happen and it is human capital that gets multiplied with other capital to give value to the organization.There is, therefore, a high degree of co-relation between an effective organization and effective HR systems". He also mentioned that HR professionals have made a meaningful journey from Welfare officers to Personnel managers, HR managers, People manager and now as Business managers.
Dr. Chand was felicitated for his outstanding contributions to the industry and society. It is to be noted that Dr. Chand is one of the few persons belonging to the HR fraternity who have attained the top position in a Public Sector in India. As a highly competent and experienced professional, Dr. Chand has assumed several key positions in the top management in his career, prior to joining Nalco as Chairman-cum- Managing Director in July 2015. Under his leadership, Nalco could get complete raw material and energy security for next 50 years. Immediately after his joining as Chairman, Nalco, he adopted a new Business Model with effective Corporate Strategy of maximizing production and enhancement of productivity of the employees and assets. Dr. Chand said: "The HR professionals should act as a bridge between different functions of management. They should act more as business managers, working continuously towards the all-round development of the organization." He emphasized that HR professionals in the changing time, should be proactive, positive and focused on triple 'P' – Planet, Plant & People.
Among others, Dr. Bhabani Prasad Mishra, Chairman, NIPM, Dr. Sarbananda Sahoo, Hon. Secretary, NIPM, former CMD Nalco Dr S.K.Tamotia, Former Director Nalco Shri G Upadhaya, former Director MMTC Shri Amarendra Mishra, Shri B.K. Thakur, Director (HR), Nalco, members of NIPM and HR professionals were present on the occasion.