Hindi Workshop of Bhubaneswar Town Official Language Implementation Committee (Undertakings) at NALCO

28/03/2017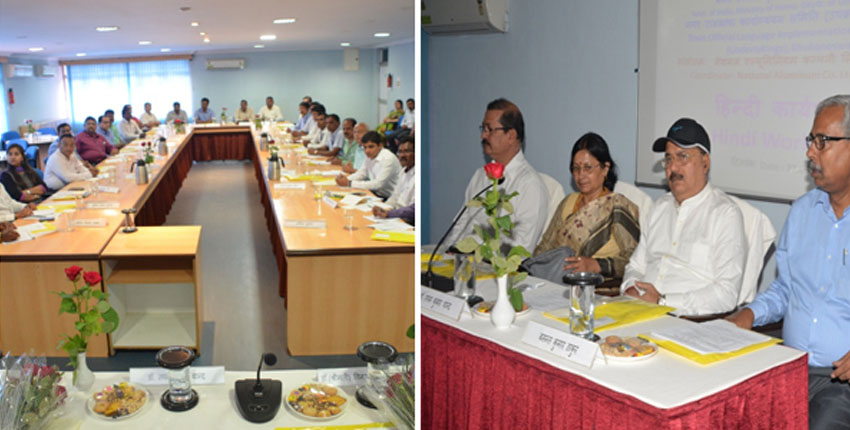 Bhubaneswar, 28/03/2017 : A Joint Hindi Workshop of Bhubaneswar Town Official Language Implementation Committee (Undertakings) was organized on 27 th March at NALCO's HRD Centre of Excellence. The Workshop was inaugurated by Dr. Tapan Kumar Chand, CMD, NALCO and Chairman of the Committee. Shri Basant Kumar Thakur, Director (HR), NALCO, Shri Sanjay Mishra, General Manager (H & A) and Dr. (Smt.) Binay Sarangi Rajaram, Ex-Professor (Hindi), Bhopal University, National Secretary of All India Sahitya Parishad Trust and Member of Ministry of Mines and Ministry of Finance, Government of India were the guests of honor on the occasion.
Dr. Chand in his inaugural speech said that more stress is being given by Government of India to increase the use of Hindi in day to day official correspondence; therefore Hindi Workshops are necessary to impart practical training. Dr. (Smt.) Rajaram in her presentation spoke on the overall development and popularity of Hindi Literature all over the world and the relation of Vedic with Greek Language. Shri Thakur and Shri Mishra explained Hindi as a source of National Integrity and urged participants to increase the use of Hindi in the workplace.
Special Training Sessions were conducted during the day-long workshop by Dr. Rajaram on 'Cultural and Financial importance of Hindi' and 'Problems and solutions for working in Hindi', by Ms. Sabita Sutradha, Hindi Translator, Oriental Insurance Company on 'Hindi Translation and Noting', by Shri Hariram Pansari, Manager (Rajbhasha) on the 'International Standard Unicode compatible new technical facilities in Indian languages for Computers and Mobile Phones', by Shri Sanjay Tewary, Dy. General Manager (HR), Rourkela Steel Plant on 'Six basic questions and Hindi', and by Smt. Baby Rani Mishra, Manager (Hindi), Food Corporation of India on 'Online Filling of quarterly progress reports and Official Language Rules'. A 'Practice and Question-Answer' session was also conducted by Shri Surendra Panigrahi, Hindi Officer, New India Assurance Company.
41 participants from 36 CPSUs participated in the workshop which was coordinated by Member Secretary of TOLIC (U), Shri Hariram pansari.